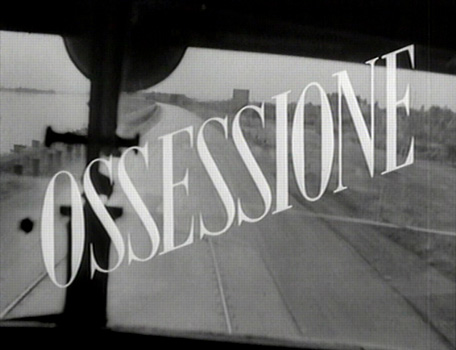 (Ossessione – Von Liebe besessen | Les amants diaboliques)


by Luchino Visconti

Italy 1942/43
Director:

Luchino Visconti

Executive Producer:

Libero Solaroli

Production Companies:

Industrie Cinematografiche Italiane

Screenplay:

Antonio Pietrangeli, Alberto Moravia, Giuseppe de Santis, Luchino Visconti, Mario Alicata, Gianni Puccini (from the novel The Postman Always Rings Twice by James M. Cain)

Cinematographer:

Aldo Tonti, Domenico Scala; Gianni Di Venanzo (camera operator) (b/w, 1.37:1)

Editor:

Mario Serandrei

Music Score:

Giuseppe Rosati

Art Director:

Gino Rosati

Costume Designer:

Maria de Matteis

Cast:

Massimo Girotti (Gino), Clara Calamai (Giovanna Bragana), Juan De Landa (Bragana), Elio Marcuzzo (Lo Spagnuolo), Dhia Cristiani (Anita)

Runtime:

143 min (3923 m)

Germany 103 min (2818 m), USA 112 min

Premiere:

16 May 1943 in Rome
"...
a
work of extraordinary beauty, in which the influence of Renoir can be detected and appreciated in the merging of character and landscape, and the stunning lyricism of the camerawork. ... recognized as the first true neorealist film ..."
— Pacific Film Archive
"Visconti achieved in Obsession a magnificent linkage between his tragic protagonists and their environment. ... it prepared Italian filmmakers, if not the Italian public or the critics, for an entirely different intellectual and aesthetic climate in which to work."
— Peter Bondanella, Italian Cinema from Neorealism to the Present
"... le film laisse une impression globale de laconisme, de réserve, de sécheresse, qui l'a empêché de vieillir."
— Jacques Lourcelles, Dictionnaire du cinéma

Film Reviews | DVD Reviews



Image NTSC Region 1 vs. Films sans Frontières PAL Region 2






---

Distribution:

Image Entertainment
Region 0 (North America)
Films sans Frontières
Region 2 (France)

Runtime:

133:56 min
Possibly a PAL-to-NTSC transfer? Or cut by 6 mins? (+ 4% PAL Speedup = 140 min??)
134:33 min (+ 4% PAL Speedup = 140 min)

Video:

1.33:1/4:3 FullScreen
Average Bitrate: 6.92 mb/s
NTSC 720x480 29.97 f/s
1.31:1/4:3 FullScreen
Average Bitrate: 7.72 mb/s
PAL 720x576 25.00 f/s

Audio:

Italiano Dolby Digital 2.0 Mono
Italiano MPEG-2 2.0 Mono

Subtitles:

English
Français, Deutsch, English

Features:

None
• Filmography Luchino Visconti

DVD Release Date: 16 July 2002
Keep Case
Chapters: 14
DVD Encoding: NTSC Region 0
SS-SL/DVD-5
DVD Release Date: 15 December 1999
Keep Case
Chapters: 6
DVD Encoding: PAL Region 2
SS-SL/DVD-5
Frame 1: Menu
(R1 left, R2 right)
---

Frame 2
(R1 left, R2 right)


---

Frame 3
(R1 left, R2 right)


---

Frame 4
(R1 left, R2 right)


---

Frame 5
(R1 left, R2 right)


---

Frame 6
(R1 left, R2 right)


---

Average Bitrate Region 1:
6.92 mb/s


Average Bitrate Region 2:
7.72 mb/s

This is a strictly non-professional and non-commercial DVD review. Don't expect industry reference work!
All ChiaroScuro captures are taken under MacOS X.2 using VideoLAN and Snapz ProX. For further methodological remarks see DVDBeaver (click on "Methodology"): "We are not a lab and are doing a good a job as our time and energy permits. Thank you for understanding."
---

Last update: 27 Sep 2002