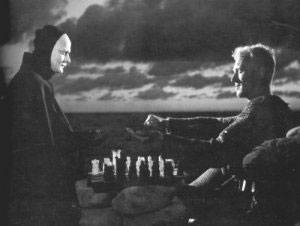 Endlessly imitated and parodied, Ingmar Bergman's landmark art movie The Seventh Seal retains its ability to hold an audience spellbound. Bergman regular Max Von Sydow stars as a 14th-century knight, wearily heading home after ten years' worth of combat. Disillusioned by unending war, plague, and misery Von Sydow has concluded that God does not exist. As he trudges across the wilderness, Von Sydow is visited by Death (Bengt Ekrot), garbed in the traditional black robe. Unwilling to give up the ghost, Von Sydow challenges Death to a game of chess. If he wins, he lives—if not, he'll allow Death to claim him. As they play, the knight and the Grim Reaper get into a spirited discussion over whether or not God exists. Having lost the game, Death truculently wanders around the countryside, spreading disease and misery wherever he goes. Von Sydow joins Death in his journey, determined to continue their theological discussion. En route, they make the acquaintance of a variety of people, both good and bad, representing every aspect of humanity—including, thematically, religious persecution. To recount all that happens next would diminish the impact of the film itself; we can observe that The Seventh Seal ends with one of the most indelible of all of Bergman's cinematic images: the near-silhouette Dance of Death. Considered by some as the apotheosis of all Ingmar Bergman films (other likely candidates for that honor include Wild Strawberries and Persona), and certainly one of the most influential European art movies, The Seventh Seal won a multitude of awards, including the Cannes Film Festival prize.
Hal Erickson, All-Movie Guide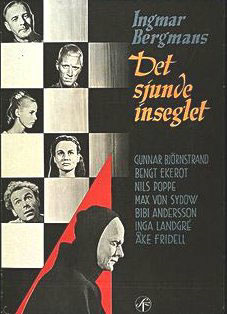 Im Rückgriff auf die Tradition mittelalterlicher Mysterienspiele meditiert der mit großer künstlerischer Kraft gestaltete Film über den Verlust von Sinnbezügen und die Suche nach Haltepunkten in einer neuzeitlichen Welt. Eine symbolträchtige Allegorie, geprägt von bitterer Skepsis.
Lexikon des Internationalen Films

Arguably Bergman's most famous flim, The Seventh Seal firmly established both him and Max Von Sydow and greatly enlarged potential audiences for films from other foreign directors. The highly symbolic medieval allegory appealed to cinema audiences around the world with content far more intellectual and less dependent on plot than the standard Hollywood movies.
... The symbolism is rampant in this film; Religion, Death, Metaphysics, juxtaposing frivolity and terror to confuse moments of jest and threat, 20th century existentialist themes - these are all fair game for Bergman. Many of the images are now legendary, especially one near the end of six figures led a dance by Death silhouetted against a dark stormy sky, arguably the most famous single image in world cinema. Many of these images have been copied and hence run the risk of seeming clichéd, but the film still has inimense power, through Bergman's ability to mix literary allegory into an atmospheric cinematic context. The Seventh Seal operates on many levels, from a strong narrative and good characterisation to the many leitmotifs and metaphors holding up the film's symbolic nature, all of which work together to produce a film of emphatic strength.
Mark Radice, Edinburgh University Film Society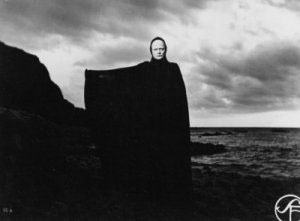 It may be folly to think that life and thus death hold any secrets. In The Seventh Seal Bergman spoke to this modern query in a medieval setting rendered at once awesome and intimate in chiaroscuro. A knight, Antonius Block (Max von Sydow), and his squire Jöns (Gunnar Björnstrand) return disillusioned from the Crusades to a plague-infested, hysterical fourteenth-century Sweden. On the shore, Block encounters Death and, in one of the most effective reverse-angle exchanges ever filmed, challenges him to a game of chess, playing for time to perform one significant act in life. What is timeless about this existential passion play is the humanity of its characters, who seem to shun allegory like a kind of narrative death: Block, whom the Crusades took away from the real-the only proof of God-to the abstract, and torment; Jöns, cynical sensualist who articulates the void; Death himself, a picture of inconclusiveness; and the dreamer Jof and his wild-strawberry wife (Bibi Andersson), actors traveling into the light.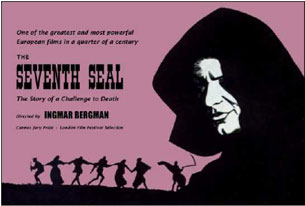 Director: Ingmar Bergman
Screenplay: Ingmar Bergman (nach seinem Theaterstück "Trämalning")
Producer: Allan Ekelund
Director of Photography: Gunnar Fischer (b/w)
Original Music: Erik Nordgren
Musical Director: Sixten Ehrling
Film Editor: Lennart Wallén
Sound: Lennart Wallén, Aaby Wedin, Evald Andersson (sound effects)
First Assistant Director: Lennart Olsson
Choreography: Else Fischer
Production Design: P.A. Lundgren
Costume Design: Manne Lindholm
Makeup: Carl M. Lundh, Nila Nittle
Special Effects: Evald Andersson
Production Companies: A/B Svensk Filmindustri
Distributor: Janus Films (USA) / Constantin (BRD)
Runtime: 96 min (2620 m, Sweden) 92 min (USA)
Cinematographic process: Black & White, 35 mm Spherical, Aspect Ratio: 1.37:1 / Laboratory: Film-Teknik, Stockholm
Sound Mix: Mono
Budget: $150,000
Filming Locations: Hovs Hallar, Båstad, Kristianstads län, Sweden / Production Dates 2 July 1956 – 24 August 1956
Release dates: 16 February 1957 (Sweden) / 14 February 1962 (BRD)
Awards: Cannes Film Festival 1957 Jury Special Prize Ingmar Bergman - Tied with Kanal (1957) // Italian National Syndicate of Film Journalists 1961 Silver Ribbon Regista del Miglior Film Straniero Ingmar Bergman