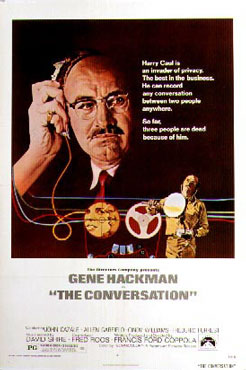 Though it was commercially lost in the shuffle between The Godfather and The Godfather Part II, The Conversation ranks among the finest films of Francis Ford Coppola's career. Drawn on a more intimate canvas than the Godfather epics or Apocalypse Now, it's a compelling and expertly constructed chamber piece about the nature of privacy and the troubling gray area between facts and truth; it was also remarkably prescient, coming out just as the Watergate scandal was making surveillance a major issue in the American consciousness. Gene Hackman delivers a typically expert performance as Harry Caul, who makes his living finding out what others are doing. As a consequence, Caul has become an obsessively private man haunted by guilt and incapable of trusting anyone, and Hackman and Coppola mold him into an indelible character whose moral and professional sides are at constant war. Coppola also used his soundtrack with uncommon intelligence; in a decade in which the attention paid to film sound would increase by leaps and bounds, The Conversation was a breakthrough in using its soundtrack not just to convey dialogue and music but to deepen the story, as well as providing the ultimate screen example of the adage, "It's not what you say, it's how you say it." The Conversation is a subtle film that best reveals its details through repeat viewings, though even on a first viewing it's a brilliant cautionary tale whose message has become all the more potent with the passage of time and the further rise of technology.
Mark Deming, All-Movie Guide
One of the great films of the seventies may also be the least known masterpiece of the Bay Area's own Francis Ford Coppola, though it won the Grand Prize at Cannes. Shot in San Francisco, this obsessive study of privacy and technology is an intimate and deeply felt work. It is also a film lover's delight, with the most intricately conceived sound and visuals this side of Hitchcock. Gene Hackman's Harry Caul is a crack wiretapper, a professional eavesdropper who is personally guarded to the point of paranoia.
Interestingly, its story reflects some of the same tensions between Catholicism, corporate crime and individual responsibility that informed The Godfather. Coppola's original screenplay-written pre-Watergate in 1967-uses the case of Harry Caul, "the best bugger on the West Coast," to initiate a (muffled) cry of moral despair concerning technology and privacy. Harry Caul is your basic technological genius: detached, humorless, professionally enthusiastic and personally guarded to the point of paranoia; he is also haunted, in his dark moments by the questionable morality of what he does. Gene Hackman perfectly portrays the polarities united in the one man. Curiosity and oblique concern draw Harry inextricably into a murder mystery, and a horror tale in the most fundamental sense: a consideration of the terrifying capacity for ruthlessness, duplicity and evil in the most average of human beings.
The Conversation is that rarity among Hollywood films: a formalist narrative. Not since Hitchcock has anyone contrived an American film with such intricate color patterns, subtly linked props and decor, intertwined musical motifs, and dialogue bristling with cross-references. But above all, The Conversation is a love story, the story of a professional eavesdropper who becomes vicariously involved with a woman he encounters through wiretapped conversations and surveillance cameras. Harry Caul steals privacy for a living but is so obsessed with his own privacy that he suffers near-pathological loneliness and guilt. Contracted to trail an executive's wife suspected of marital infidelity, Caul becomes fearful that he may be part of a murder plot. His every action becomes an imagined disaster; yet he dare not retreat into his customary paralysis. In many ways, The Conversation is Coppola's response to Blow-Up, another film about a hero who can respond only through technology. But as Gene Hackman plays him, Caul is anything but emotionally dead. Unlike Antonioni's nameless photographer, Caul suffers from a surfeit of feeling, agonizing inside his self-made traps. Incidentally, The Conversation makes some of the most brilliant uses ever of sound on film; the whole morbid plot turns on an inflection. A disturbingly serious work.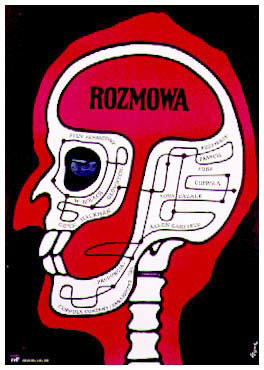 Polnisches Filmplakat
---
Francis Ford Coppola is the American director of the 1970s, and nowhere is it more apparent than in this under-appreciated masterpiece. Gene Hackman is brilliant as the private eavesdropper Harry Caul, whose thick social armor offers no protection when he discovers his illicit recordings may have fatal ripples. Coppola's original script is beautifully served by his whispering direction, Bill Butler's slightly removed camerawork, and Walter Murch's richly textured sound design and dense editing. A haunting, harrowing film of guilt, personal responsibility, and paranoia, and one of the best films of the 1970s.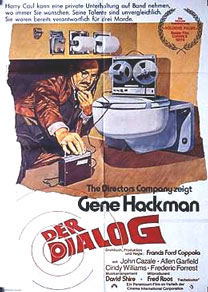 Director, Screenplay, Producer: Francis Ford Coppola
Co-Producer: Fred Roos
Associate Producer: Mona Skager
Director of Photography: Bill Butler, ASC (Technicolor)
Original Music: David Shire
Film Editor: Richard Chew, Walter Murch (supervising editor)
Sound: Walter Murch (sound montage, sound re-recordist); Art Rochester, Nathan Boxer (production sound recordist)
Production Design: Dean Tavoularis
Set Decoration: Doug von Koss
Costume Design: Aggie Guerard Rodgers
Casting: Jennifer Shull
First Assistant Director: Chuck Myers
Production Companies: American Zoetrope / Paramount Pictures / The Coppola Company / The Directors Company
Distributor: Paramount Pictures (USA) / CIC (Germany)

Runtime: 113 min
Cinematographic process: 35 mm Spherical, Technicolor 1.37:1 Open Matte (negative ratio), 1.85:1 Widescreen
Sound Mix: Mono

Filming Locations: San Francisco, California: One Embarcadero Center; Union Square
Release dates: 12 September 1974 (Germany)

Awards: Academy Awards 1975 Nominated Oscar Best Picture: Francis Ford Coppola; Best Sound: Walter Murch, Art Rochester; Best Writing, Original Screenplay: Francis Ford Coppola // British Academy Awards 1975 Best Film Editing: Richard Chew, Walter Murch; Best Sound Track: Nathan Boxer, Mike Evje, Walter Murch, Art Rochester // Cannes Film Festival 1974 Golden Palm: Francis Ford Coppola; Prize of the Ecumenical Jury - Special Mention: Francis Ford Coppola // National Board of Review 1974 Best Actor: Gene Hackman; Best Director: Francis Ford Coppola; Best Picture – English Language // National Film Preservation Board 1995 National Film Registry